On August 24th, several changes will be installed to FlexMLS. All the changes are highlighted in the FlexMLS Upgrade Notice with links to further details on each feature. One of the features you may get questions about is the Export tab, so additional details are described below:
Internet Display Options
As a result of the Virtual Office Website (VOW) rules currently in place, it is necessary to distinguish the various internet display options within FlexMLS when an office or member is adding a listing. I have attached a document that provides a guideline on how those changes will be implemented within FlexMLS.
For a review of the VOW rules, please refer to the MLS Rules, Section 14. Also keep in mind that a broker still has control over their own listings outside of IDX and VOWs and web site publication by MLS. They control their own web sites and services such as ListHub.
Here is a quick summary of the internet display options:
The internet display options will be available from a newly added Export tab from the Add/Change Listing screen. Refer to screenshot below. The Export tab has been added with four Seller Opt-Out options and one Listing Export Option.
The default setting for all listings will be to display each listing on All MLS authorized public web sites. This means if you would like your listings to be viewed on external public sites, you do not need to take any action on the Export tab.
Leaving all Seller Opt-Out options unchecked AND leaving the Listing Export option All MLS authorized public web sites checked, allows the listing to be displayed on all public internet websites. This includes Realtor.com, wihomes.com, IDX and VOW websites and other data feeds as applicable.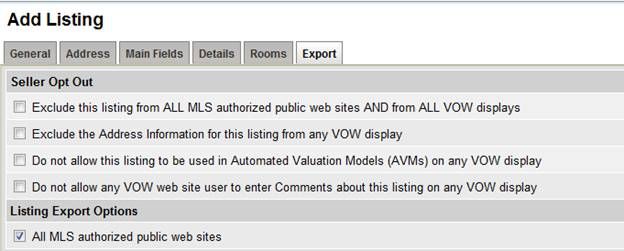 Please review the Quick Guide document to understand all of the internet display options.
The MLS will post additional communications to all members and want you to be prepared for questions that may come your way.
The MLS appreciates your business and support and looks forward to your comments, questions or suggestions.
Any questions, please call the Help Desk at 414.778.5450
Or e-mail support@metromls.com. You may also follow our updates at http://twitter.com/metromls.