If you ever have to contact the Metro MLS Help Desk for assistance with FlexMLS, and during the call we direct you to click on an item in your menu, we are referring to your Main Menu Tree. This could be located on either the left side of your screen or across the top in a tabbed format.
If the menu is located on the left side of your screen, it will look like this:

If the menu is located across the top of your screen, it will look like this:

Your Personal Profile
If you ever change your business e-mail address, phone and fax numbers, physical address, or other personal information for any reason, it is your responsibility to update your FlexMLS account with these changes. This keeps your Contacts updated with your correct information and it also helps you in delivery of e-mail from Metro MLS and if you ever need to use the 'Forget your password' link for FlexMLS. Updated and correct information helps in the delivery of your password and Flex Quick Tips to the correct e-mail address.
To update your personal profile in FlexMLS, in the main menu, click Preferences > My Profile. In the screen, click Quick Profile Maintenance.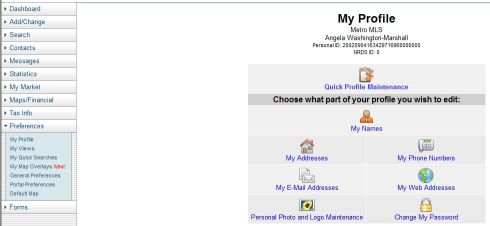 In the Quick Profile Maintenance screen, make any applicable changes to your primary profile information. Click the Next button to save. Changes are updated instantly in FlexMLS.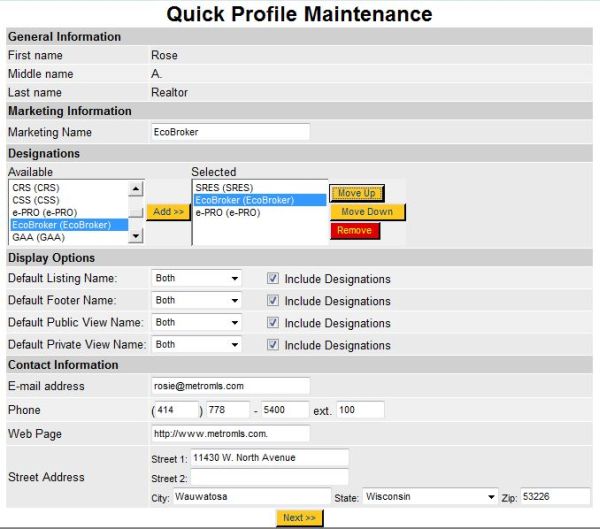 NOTE: The Personal Profile information also applies to office accounts.
Any questions, please call the Help Desk at 414.778.5450
Or e-mail support@metromls.com. You may also follow our updates at http://twitter.com/metromls.