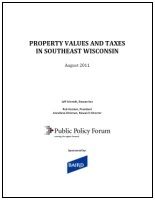 This report is an annual Public Policy Forum publication that analyzes property values and property taxes within the seven-county southeast Wisconsin region. The report's primary objective is to measure trends in property values - one of the region's most critical indicators of economic health - and examine how those trends impact the capacity of local governments and school districts to raise the revenues required to deliver essential public services. This year's report first analyzes 2010 property values, with specific consideration of multi-year trends. We then examine 2011 budgeted tax levies and tax rates of southeast Wisconsin counties and municipalities to explore the relationship between valuations and taxes.
You can follow this link: Property Tax Ranking and Schooling Report or visit www.publicpolicyforum.org for more information.
Any questions, please call the Help Desk at 414.778.5450.
Or e-mail support@metromls.com. You may also follow our updates at http://twitter.com/metromls.