The Parcel Info tool allows you to click on any lot on the map to bring up its property information. The lot dimensions, Parcel link to the tax record, and a mini listing history, if available, will appear. This icon, which is a small blue circle with a white 'i' in the center, can be found in the toolbar of all the maps within FlexMLS.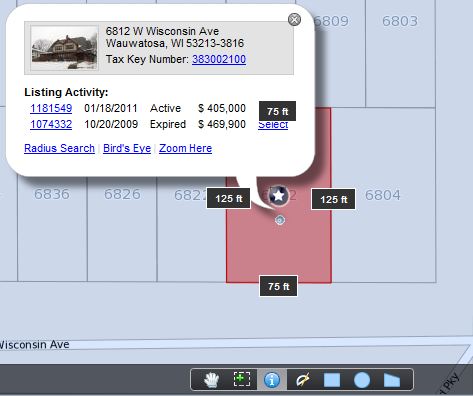 Counties available for use with the Parcel Info tool are: Dodge, Fond Du Lac, Jefferson, Kenosha, LaCrosse, Manitowoc, Milwaukee, Ozaukee, Racine, Rock, Sheboygan, Walworth, Washington, and Waukesha.
A Parcel Info map can be found on the Metro MLS site, by clicking on Support > FlexMLS Manuals under the MLS Site Navigation menu.
Any questions, please call the Help Desk at 414.778.5450.
Or e-mail support@metromls.com. You may also follow our updates at http://twitter.com/metromls.