The Multiple Listing Service is committed to promoting energy efficient and green building features within the FlexMLS system. The MLS has worked with numerous resources, including the Metropolitan Builders Association (MBA) to provide the best solution. Thank you MBA for your contributions.
Three new documents have been added to FlexMLS to showcase and search for green, energy efficient certified homes. Listings for sale can have different types of energy efficient or green building certifications. The documents are intended to identify and disclose different types of certifications. Refer to the Green Building Certified and Energy Efficiency Certified documents. We have also created a Green Disclosure Statement that serves as a checklist of Green features or details for your listing.
Note: The documents are available only for residential property types at this time.
To download and complete these forms, you have two ways to access these documents. The first way is from the www.mlswis.com home screen. Under the MLS Site Navigation section, click on the Forms and Rules link. In the Forms & Profile Sheets menu, click the PDF link next to your desired form.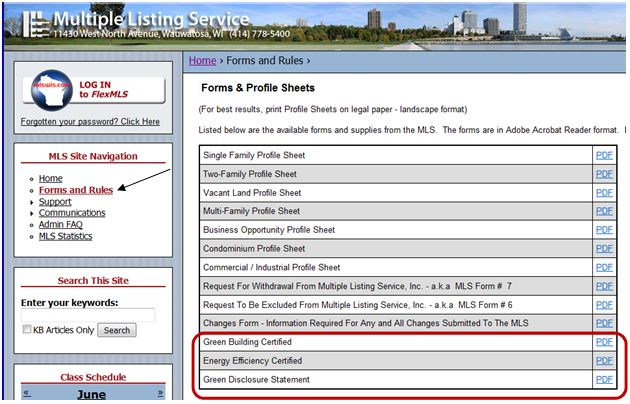 The second way is from the Forms section of the menu after logging into FlexMLS. Click on Forms to open the menu. Then click on your desired document to open that PDF file.
To allow other agents to search for your Green or Energy Efficient listing you will need to update the document selections for your listing. When adding or changing your listing use the Documents on File section from the Detail tab and check the appropriate documents available for your listing.
To upload your document to your listing, click on the Documents link located under the Multimedia section from the Add/Change Listing screen. Click the drop-down menu next to Description to select the applicable document. Browse for your file and then click the Add button. For more details using the Document Loader tool, please review How to Use Document Loader.
To search for Green or Energy Efficient listings, you will need to search by one of the three document names. From the Taxes tab, click the Documents on File link to select the document detail that you want to search.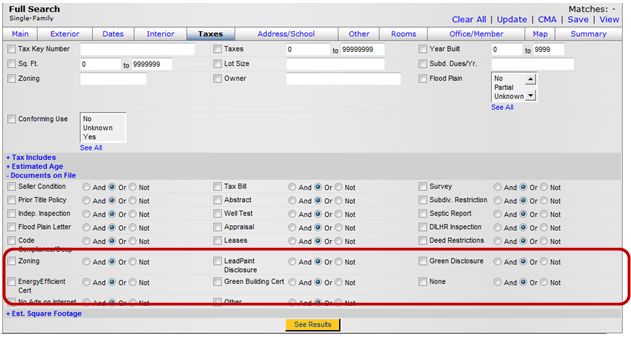 If you have any questions regarding Green or Energy Efficient listings please do not hesitate to call the Help Desk at 414.778.5450 or e-mail support@metromls.com. You may also follow our updates at http://twitter.com/metromls.