What if a listing is located in the wrong place on the map?
In the Search Results screen, click on the Map tab. Next to Actions for Selected Listing, click the drop-down and choose Move this Listing. You may move your own listing or recommend someone else move their listing's location on a map. This yellow screen appears after choosing Move this Listing.

Once you move the listing pin to the correct location, if it is your own listing, it will save the relocation when you click Use this location. If the listing is not yours, a map recommendation will be sent to the listing agent.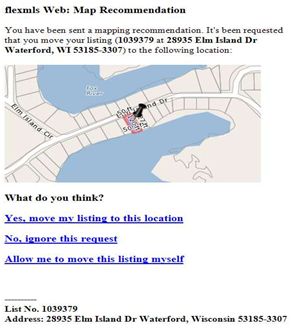 Any questions, please call the Help Desk at 414.778.5450 or e-mail support@metromls.com