Starting August 29th, 2011: When changing the status to sold for a listing, the listing agent will be required to identify whether or not there were concessions associated with the sale. This is a 'Yes' or 'No' selection. If you identify 'Yes' there were concessions please disclose concessions in the Private Remarks.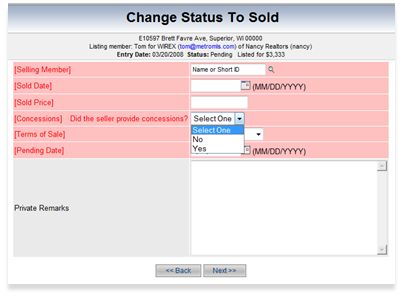 Why is the concession flag now required?
Effective September 1st, 2011: To sum it up quickly, Appraisers must meet additional requirements for appraisals submitted to Fannie Mae or Freddie Mac. One such requirement is to disclose whether or not there were concessions on sold listings used for comparables in the appraisal. Appraisers are already required to identify concessions for FHA and VA loans.
Important: If the seller provided concessions, please disclose the seller paid costs or contributions in the Private Remarks section. The appraiser will call the listing agent for each sold comparable used in the appraisal if the information is not disclosed in the Private Remarks.
Visit https://www.efanniemae.com/sf/lqi/umdp/index.jsp to learn more about the Uniform Appraisal Dataset (UAD) developed by Fannie Mae and Freddie Mac.
Any questions, please call the Help Desk at 414.778.5450.
Or e-mail support@metromls.com. You may also follow our updates at http://twitter.com/metromls.