On October 30th all Business Opportunity listings will be converted to Commercial Industrial listings. All business opportunities after the conversion need to be entered into the Commercial Industrial property type.
Metro MLS has added several detail groups to the Commercial Industrial profile sheet to accommodate business opportunities entered into the Commercial Industrial property type starting Oct. 30th.
Type of Business
Licenses
Sale Included
Refer to the highlighted Commercial Industrial profile sheet page 2 for all the changes.
You will no longer be able to search listings using the Business Opportunity property type. To find business opportunities using the Comm/Industrial Full Search, select Business from the Bus/Com/Ind field as demonstrated in the screenshot below: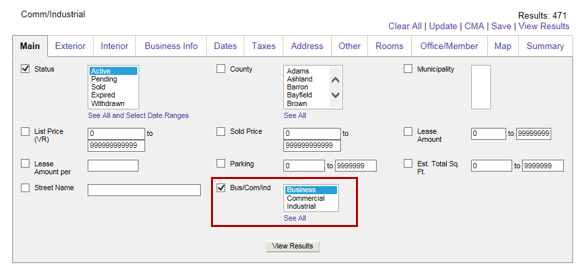 How does this affect your existing listings or searches that use the Business Opportunity property type?
If you have entered a property in both Business Opportunity and Commercial Industrial, after the conversion both will be found under Commercial Industrial.
If you have an automatic email event that currently has Business Opportunity as the only property type in the criteria, this will no longer yield any search results.
What do you need to do?
If your listings or searches are affected as mentioned above, Metro MLS will be sending you an email with further details.
Any questions, please call the Help Desk at 414.778.5450.
Or e-mail support@metromls.com. You may also follow our updates at http://twitter.com/metromls.